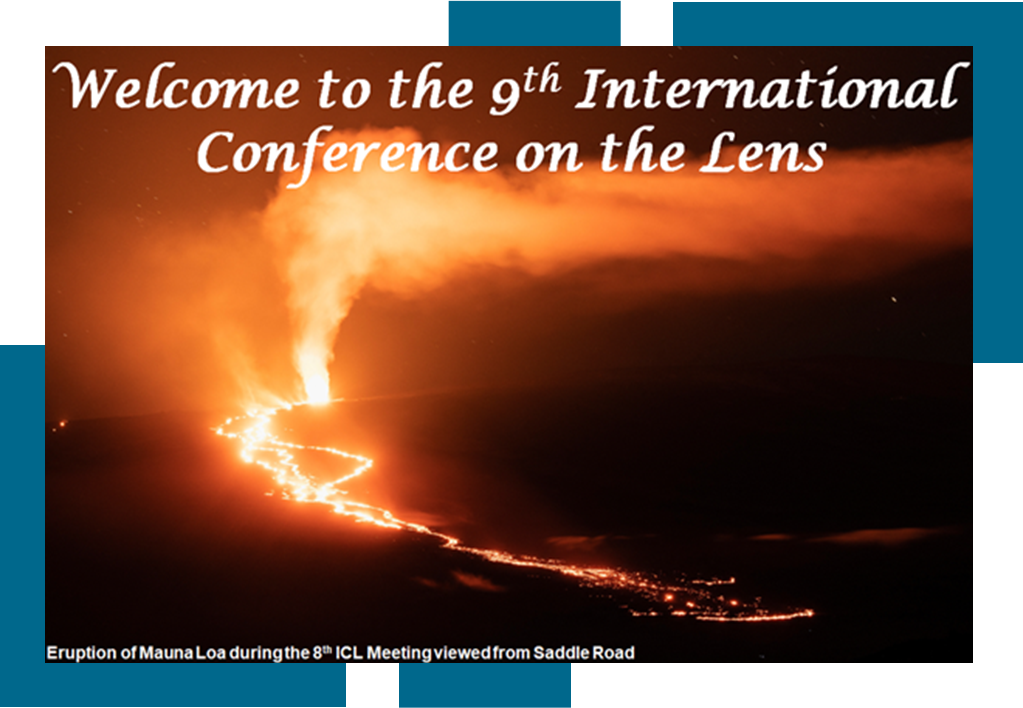 Program for the
9th International Conference on the Lens (ICL) December 10-15, 2023
This conference provides lens researchers with the unique opportunity to meet in a casual atmosphere to exchange the latest breakthroughs in lens research and establish collaborations over meals, while also enjoying the many wonderful activities available in Kona, Hawaii.
The scientific program for the 9th ICL is spearheaded by Dr. Salil Lachke, from the University of Delaware. Program information will be added to this page when available.
Click here for a copy of the last 8th ICL Program.
The Meeting Will Incorporate All Aspects of the Lens and Cataract Formation
Sessions will be organized by Dr. Salil  Lachke and session chairs appointed by the organizing committee, who will in turn invite session speakers. In each session, one slot will be left open, and the final speaker will be selected from the submitted abstracts. In addition to oral presentations, there will be a poster session and a special invited lecture on the impact of cataract on vision. Session / Moderators include:
Session 1: Lens Development / Xin Zhang
Session 2: Lens Cell Biology and Matrix Biology / Cathy Cheng 
Session 3: Omics Approaches in Lens Research / Marc                                     Kantorow, Ales Cvekl
Session 4: Function and Homeostasis of Crystallins / Krishna                         Sharma
Session 5: Lens Fiber Differentiation and    Autophagy /                                   Amer Riazuddin
Session 6: Lens Physiology and Channel Proteins / Tom White,                       Paul Donaldson
Session 7: Physiological Optics and Biomechanics of the Lens                        / Matthew Reilly, Bianca Heilman
Session 8: Biochemisty and Biophysics of Crystallins / Eugene                       Serebry
Session 9: Lens Epithelial and Fiber Biology and Defects / Salil                       Lachke. Velia Fowler 
Session 10: Lens Fibrosis and EMT / Janice Walker
Session 11: Lens Genetics and Cataract / Elena Semina
Session 12: Biology of the Aging Lens and Redox Biology /                                 Xingjun Fan
Session 13: Lens Pathology and Regulatory Pathways / Vasanth                       Rao
Session 14: Pharmacological Approaches to Lens Disease /                               Vincent Monnier
Session 15: Lens Clinical Studies and Treatment / Hiroshi                                 Sasaki, Hiroyuki Matsushima
Session 16: Lens Regeneration and Crosstalk / Katia Del-Rio                             Tsonis