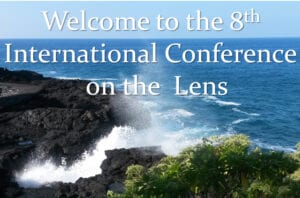 The International Conference on the Lens (ICL) will be held December 4 – 9th, 2022 in Kona Hawaii at the Sheraton Kona Resort & Spa at Keauhou Bay. (Due to travel restrictions associated with the Covid Pandemic, this meeting was originally scheduled for December 5-10, 2021.)
The ICL evolved from the previous US- Japan CCRG meetings (1980 to 2009) and is open to all cataract and lens researchers worldwide. Sponsored by the National Foundation for Eye Research (NFER), the ICL has grown in stature attaining the reputation of being the leading forum for lens researchers. The meeting clearly exceeds ARVO in its presentation of cutting-edge lens research. A minimum of 20 travel grants are anticipated to be available for investigators to participate in the meeting.
This conference provides lens researchers with the unique opportunity to meet in a casual atmosphere to exchange the latest breakthroughs in lens research and establish collaborations over meals, while also enjoying the many wonderful activities available in Kona, Hawaii.
Co-Chairs for the 2022 International Conference on the Lens will be our British colleagues:
Dr. Michael Wormstone (i.m.wormstone@uea.ac.uk)
Dr. Barbara Pierscionek (barbara.pierscionek@aru.ac.uk)
Dr. Roy. R. Quinlan (r.a.quinlan@durham.ac.uk)